Scroll Saw Features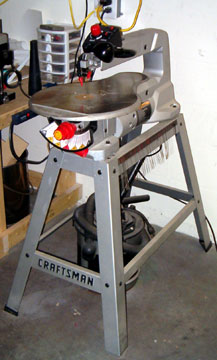 Features are listed in order of what I consider to be most important to least important.
Plain End (Pinless) blades

There is a far greater variety of pinless blades than pinned blades. Pinless blades also allow a smaller hole to be drilled so that finer cut-outs can be made. That hasn't really been much of an issue with model aircraft, but for other types of work it is very important.

Tilt Table

Sawdust blower

If your saw doesn't have one, you can make one easily using an aquarium pump and some fuel tubing.

Variable Speed

It's a nice feature, but I got along for years without it. Saws that don't have a variable speed feature allow you to make mistakes faster. Being able to slow the blade down is very helpful for cuts that have to be very precise.

Work Lamp

Another nice feature that you can get along without. A fluorescent shop lamp (about $10) can be mounted on the ceiling over the saw.

Vacuum attachment

My Craftsman saw has this feature, but I almost never use it because for whatever reason, my vacuum is never near my saw when I'm using it. I just vacuum the table and inside the saw when I'm finished.
I currently own two scroll saws. My older scroll saw is a Delta clone (I don't remember the manufacturer and the label is worn off). The table is cast iron. I added an aquarium pump with tubing as a sawdust blower so I can see the line I'm cutting to. This saw does not have a variable speed feature but it would be more useful if it did. It is worth the extra cost for this feature. It served me well for nearly 20 years but is now a backup.
My newest scroll saw is a 20" Craftsman model. It has all the bells and whistles (work lamp, sawdust blower, 2-direction tilt table, variable speed and vacuum attachment). The saw has some significant problems, unfortunately. I wouldn't buy it again.
The blade change setup is the most tedious of any saw I've ever seen. It is easy to drop the hex key or blade down in the saw from where they are difficult to retrieve. I permanently removed the left side panel which resolved that problem.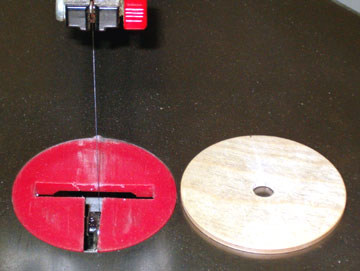 The second problem is the red plastic insert. It isn't flat or flush with the table. It is also too flexible and the cut-out in it is too large. These things caused a myriad of problems such as work catching on the cut-out for the insert in the table, poor support of small pieces, etc.
I made a new insert from aircraft plywood finished with lacquer. I saved the plastic insert for when I have to cut metal so that the shavings won't tear up the plywood insert.
The blade can not be put in the saw sideways which seems really stupid. The upper blade holder will rotate in 90° increments, but the bottom holder can not be rotated. If the bottom holder was modified so that it could rotate, then unlimited length cuts could be made.
Lastly, the table rusts instantly. I'm not kidding about that. I was using the saw one day and dripped sweat on the table. I could see the table beginning to rust within seconds. So far no amount of wax on the table has resolved the problem. I finally resorted to one of the most expensive waxes available and it has helped, but not entirely prevented rusting. The wax I use now is 3M Ultra-Performance wax for boats.
My first scroll saw was an older Dremel model that I hope is discontinued. It was the worst excuse for a tool I've come across barring cheap K-Mart screwdrivers. The Dremel saw had a stamped sheet metal table that could pivot 45º in either direction. On the front was a protractor-like piece that was secured by a wing nut to lock the table. There was a notch that was supposed to be at 0º but was actually off a couple degrees.
Because of the way the notch was stamped, it was impossible to get the table level. It either had to be in the notch or either side of it and 0º just happened to be right between the two. I'm wondering if the Dremel factory is built on a slope or something because one the main problems I've had with their tools is misalignment. The other problem is cheap bearings. See my Dremel Tirade on the Moto Tools page.
High End Scroll Saws
These are the cream of the crop when it comes to scroll saws. They are much too expensive for me and overkill for the kind of work I do. While these saws are very high quality, they are intended for craftsman who's work centers around a scroll saw.