Ball Links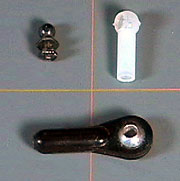 Top: A ball and hooded ball link. This type is a good choice for throttles and control surfaces of small aircraft. The ball shank is too delicate for use on larger aircraft.

Bottom: A typical helicopter style ball link.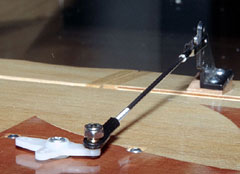 The second type of ball link has a ball with a hole in it and a link that is not hooded — it looks like a tennis racquet without the strings.
The ball is attached to a horn using a bolt and lock nut. These are commonly used on larger aircraft and at almost all points on R/C helicopters.
The one thing to look out for with this type of connector is that some of them can crack and release the ball. The result is predictable.
This style ball link tends to be heavier and more expensive than other type of pushrod connectors as well as over-kill for smaller models. However, they are also very reliable.